Bulldog's
Edit
The Bulldog's

Tiddles(Left)

Butch(Middle) Greg (Right)

First appearance

Toon Trouble (2006)

Age

Butch and Greg: 17 Tiddles: 15

Species

Dog

The Bulldog's are a group of dog's who torment all cat's for fun, they are member's of D.O.A.C . Butch is the leader, Tiddles is the stupid one of the 3 and Greg is the violent one. They and the other members where forced to do Clockworthy's dirty work in Toon Trouble 1. The Bulldog's work for The Snake's and The Morphing gang in Toon Trouble 2.
Giga-Tech Wolf
Edit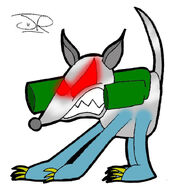 This monstrous war machine, designed and built by King Elliot for the Bulldog's, to give them unstoppable strength and power.
Ad blocker interference detected!
Wikia is a free-to-use site that makes money from advertising. We have a modified experience for viewers using ad blockers

Wikia is not accessible if you've made further modifications. Remove the custom ad blocker rule(s) and the page will load as expected.